Aangeleverd door: Spruitje
ADAM GARRIE
The Duran
Wed, 06 Dec 2017 18:14 UTC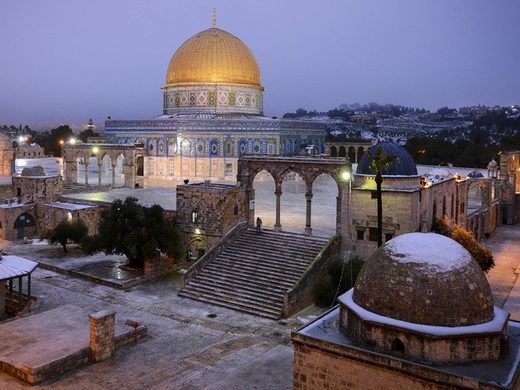 World leaders, activists and international bodies have reacted with a single voice, universally condemn Donald Trump's expected move to recognise Jerusalem/Al-Quds as the Israeli capital. No other country in the world has ever done so, nor has the United Nations.
Here is what world leaders had to say:
Palestinian Liberation Organisation-Husam Zomlot, PLO envoy to United States
"The move will have "catastrophic consequences" and elicit a "strategic and political" response from the PLO."
Palestinine-Presidential Spokesman
"President Abbas warned of the dangerous consequences such a decision would have to the peace process and to the peace, security and stability of the region and of the world."
Syria-Official from Syrian Foreign Ministry
"[The move] is the culmination of the crime of usurping Palestine and displacing the Palestinian people.
To recognise this capital of the Zionist entity in the heart the Arab world is an attempt impose their hegemony on an Arab nation."
Iran-Supreme Leader Ayatollah Seyyed Ali Khamenei
"That they claim they want to announce Quds as the capital of occupied Palestine is because of their incompetence and failure."
Iraq-Joint Cabinet Statement from the Iraqi Government
"The Iraqi government received this news with the utmost worry and warns about this decision's ramifications on the stability of the region and the world."
Arab League-Official Statement
"Any recognition of the city of Jerusalem as the capital of the occupying power, the establishment of any diplomatic mission in Jerusalem or its transfer to the city is an open aggression against the Arab nation, the rights of the Palestinian people and all Muslims and Christians."
Saudi Arabia-King Salman
"This dangerous step will provoke the feelings of Muslims around the world, for whom the importance of Jerusalem and the Al-Aqsa Mosque is great."
Jordan-King Abdullah II
The Jordanian King warned Donald Trump of "dangerous repercussions on the stability and security of the region" which would inflame the feelings of Muslims and Christians.
Turkey-President Erdogan
"Jerusalem is the red line for Muslims. Such a decision will be a heavy blow for all mankind. We will not leave it. We will fight to the end. We may even reach a severance of diplomatic relations with Israel. I once again warn the United States not to take steps that will further deepen the crisis in the region."
European Union-Federica Mogherini
"…a way must be found, through negotiations, to resolve the status of Jerusalem as the future capital of both states. "We believe that anyaction that would undermine this effort must absolutely be avoided."
Palestine-Christian activist cited by RT
"Move the embassy to your country, not ours. Jerusalem, Palestine's heart, is not up to negotiations."
Russia-Presidential Spokesman Dmitry Peskov
Dmitry Peskov stated that President Vladimir Putin spoke with President Mahmoud Abbas and during the call,
"They expressed concern about the situation and its possible exacerbation."
China-Foreign Ministry Spokesman Geng Shuang
"We are concerned about the possible escalation of tensions.
All relevant parties should bear regional peace and tranquillity in mind, be cautious in words and deeds, avoid impacting the foundation for the settlement of the issue of Palestine, and avoid causing new confrontation in the region."
Egypt-Statement from the office of President al-Sisi
The Egyptian President warned Donald Trump against "taking measures that would undermine the chances of peace in the Middle East."
France-Official Statement from the office of President Macron
"On the Middle East, the French President expressed his concern about the possibility that the United States unilaterally recognise Jerusalem as the capital of the state of Israel."