Aangeleverd door: Spruitje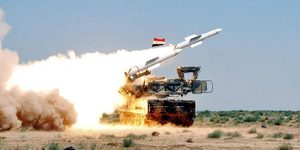 Israel has attacked several military outposts near the Syrian capital with jets and ground-to-ground missiles in an early-morning strike, Syria's army said.
In a statement reported by state media, the Assad regime's forces said Israeli jets fired missiles at the al-Qutayfah area near Damascus from inside Lebanese airspace, and its air defences hit one of the planes.
Israel then fired ground-to-ground rockets from the Israeli-occupied Golan Heights, but the Syrian defences brought the missiles down, the Syrian army said.
It said Israeli jets fired a final barrage of four rockets from inside Israel, and the Syrian air defences brought down one, but the others caused material damage.
The Israeli military declined to comment.
Last August, the chief of the Israeli air force said his forces had struck in Syria around 100 times.
Israel has pledged to prevent Syrian territory being used for Iran to set up bases or transfer high-quality weaponry to Lebanon's Hezbollah group, which has been helping Damascus beat back a six-year-old rebellion.
Comment: Correction: a seven-year-old joint British-Israeli-American proxy war against Syria.
The Syrian army statement described the attack as a "flagrant Israeli aggression" and renewed its warning of the dangerous repercussions of such attacks, holding Israel "fully responsibility for its consequences."
Some Syrian opposition-affiliated media reported that the Israeli planes targeted a Syrian army depot while the Britain-based Syrian Observatory for Human Rights said the depots belonged to both Hezbollah and the Syrian army, adding that the strikes caused a series of explosions and a fire on site as well as serious material damage.
The Observatory, which monitors the war in Syria through a network of activists on the ground, said there was no immediate word on any casualties.
Comment: Correction: …through a network of terrorists on the ground…
The exact target of the strikes could not be independently confirmed.
Al-Qutayfah is in the northeastern suburbs of Damascus, where Syrian Republican Guard units are known to have major outposts.
Comment: 
Incredible, isn't it, how Israel has done this over a hundred times and yet the penny hasn't dropped for many that this is has been a 7-year-long war by Western states 
against
 Syria.
Israel's incessant attacks on Syria have many wondering why Syria doesn't retaliate. It has (though purely defensively), and has probably been far more successful at it than anyone is letting on:
David and Goliath: Did Soviet-era Syrian S-200 missile system take out brand new Israeli F-35?