Aangeleverd door: Spruitje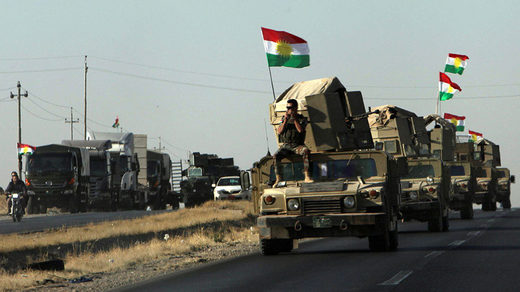 Ankara and Baghdad may carry out a joint military operation against Iraqi Kurds after the May election in Iraq, the Turkish foreign minister said.
Speaking to CNN Turk, Mevlut Cavusoglu also said that Ankara's own operation against Syrian Kurdish militias in the Afrin region would be completed by May.
Kurdish militias in Iraq and Syria were allied with the US-led coalition, which rallied them for operations targeting the jihadist forces of the terrorist group, Islamic State (IS, formerly ISIS). In Syria, the so-called Syrian Democratic Forces, which are dominated by Kurdish YPG militias, were the primary ground force in the siege of the IS stronghold of Raqqa.
Ankara considers those militias an extension of its domestic Kurdish militant organization, the Kurdistan Workers' Party (PKK), which is deemed to be a terrorist group by the Turkish government. Kurds in Syria and Iraq have been attacked by Turkish forces on several occasions in recent years, including the ongoing cross-border operation in Afrin.
The autonomous region of Iraqi Kurdistan has proved troublesome for Baghdad. Last year, the Iraqi government used a combination of military force and political maneuvering to undermine the results of an independence referendum, in which the region voted for secession from the rest of Iraq.
Comment: 
Speaking to reporters on his flight from Germany to Austria, Çavuşoğlu 
said
 the joint cross-border operation with Iraq may start after Iraq holds parliamentary elections scheduled for May 2018, signaling Turkish troops may move to northern Iraq following the ongoing operation.
"Even if the Afrin operation has not yet been completed, we have the capacity to carry out both operations simultaneously," Çavuşoğlu said.
…

The minister's statement came after the Turkish General Chief of Staff Gen. Hulusi Akar met with his Iraqi counterpart Gen. Othman al-Ghanimi in Baghdad on March 1.

After Akar was received by Iraqi Defense Minister Erfan al-Hiyali at the Defense Ministry building in Baghdad, the three reportedly discussed regional security and means of enhancing bilateral military relations.

"Turkey and Iraq have been facing the same risks and threats that generated from the latest regional situations," said Akar.

"We would like to boost our relations and collaborate over the war against terrorism and border security," he added.

"This visit will be beneficial for the people on both sides," Ghanimi said.