RT
Thu, 12 Apr 2018 19:14 UTC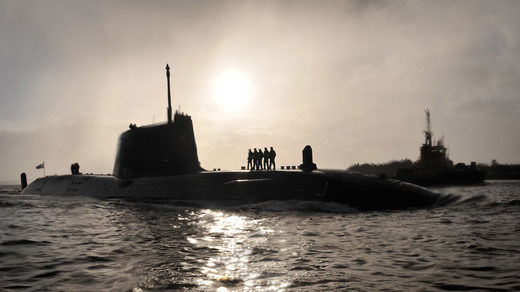 The UK has ordered submarines into striking range, ready to attack Syria's Bashar al Assad as early as Thursday night, reported the Telegraph.
Tensions continue to escalate following the alleged chemical attack in Douma.
UK Prime Minister Theresa May has called her cabinet back from Easter break early for an emergency meeting on Thursday afternoon. May will discuss how the UK should respond to last Saturday's alleged chemical attack on Douma, Eastern Ghouta.
It is understood that at May's Thursday meeting she will seek approval from the cabinet to join allies France and the US in a joint offensive against Syria, without the consultation of Parliament. The approval, if granted, could see the operation launched "within hours."
Whitehall sources told the Telegraph that any military action is expected before next week, when Parliament resumes. By gaining the backing of her cabinet, the prime minister will be clear of the final domestic hurdle in the way of British involvement in the allied Syrian assault.
Escalating international tensions reached a fever pitch yesterday, when the apparently trigger-happy US president, Donald Trump, took to Twitter to warn Russia to "get ready" as missiles "will be coming, nice and new and 'smart!'" at its ally, Syria.
In Cyprus, RAF cruise missile-armed Tornado fighter bombers based at RAF Akrotiri could join any action on Syria.
Comment:
 Two British fighter jets 
were filmed
 landing at the Royal Air Force's Akrotiri Airbase in Cyprus last night, as reports of a possible attack on Syria draw near.
The video shows the two jets landing at the Akrotiri Airbase last night; however, there is no word on whether or not they were sent there to partake in the U.S.' attack on Syria.

In addition to these two fighter jets arriving, rumors circulating on social media claim that a coalition of Arab countries have also sent warplanes to Cyprus.
It is understood that British officials are in talks with their French and US counterparts about which military assets should be deployed for military action.
"We are committed to deter and prevent the use of chemical weapons," a government source said. We now have to establish the best way of getting there, and those conversations are carrying on, officials are speaking to their counterparts in France and America right now. In terms of precisely what happens next, that is still to be confirmed."
As the chance of military conflict increases, reports have indicated that pro-government forces in Syria were evacuating major airports and military airbases after Trump's online threats.
Comment: 
As the United States and some of its allies threaten military action against Syria in the wake of an alleged chemical weapons attack, two aircraft, which reportedly took part in previous US-led invasions, 
have arrived
 in the Mediterranean region.
Two surveillance planes of the US Air Force have recently arrived at the Iraklion Air Station on the island of Crete, Skai TV reports.

According to the media outlet, the two aircraft in question – the MC-12S EMARSS and MC-12W Liberty – were previously employed by the US during its invasions of Afghanistan and Iraq.