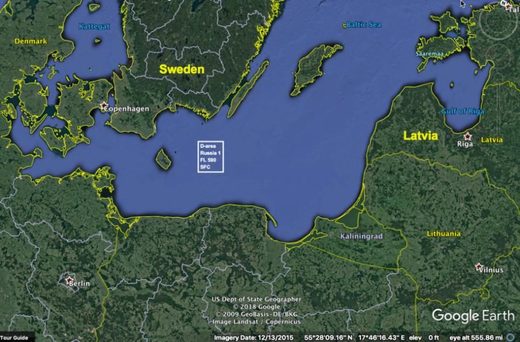 "I've Never Seen Anything Like It" – Russia Declares 'Unusual' Missile Drill, Just Miles From Sweden by Sat, 03/31/2018 – 15:00 346 SHARES Twitter Facebook Reddit Email Print
Rather than exercising caution after the nerve gas attack in the United Kingdom and a tidal wave of Russian diplomatic expulsions from Washington, Eurozone, and other countries, Moscow is upping the ante which has surprised the Eurozone and the West on Thursday. Besides the tit-for-tat expulsions of Russian and American diplomats, President Vladimir Putin has chosen to flex his war muscles next week with an unusual missile exercise in international waters, but close enough to Sweden and Latvia that it will shut down commercial airspace.
The Russian cruiser Marshal Ustinov, assigned to the 43rd Missile Ship Division of the Russian Northern Fleet, has been deployed to the Baltic Sea for a live firing exercise in international waters near Sweden and Latvia on April 06 through 08, TASS reported, citing the Russian Navy's press release.
According to Sweden's Aftonbladet, the Swedish Civil Aviation Administration received a Russian telegram on Tuesday alerting officials that "rocket test firings in the southern part of the Baltic Sea" will take place in proximity to Karlskrona, Sweden. The test area is known as "Russia 1", from April 4 at 6:00 to 6 April at 18:00.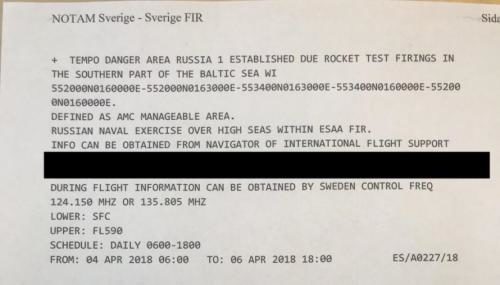 "Russia has announced that they are planning some sort of launch next week. It is an area of international water but in Swedish airspace, "says Sofia Bergström, communications officer at the Civil Aviation Administration.
During the missile exercise, the Swedish Civil Aviation Administration will refer to the D-area, as "Dangerous Area," and all air traffic and civilian aircraft will be rerouted during the exercise.
"The rocket launches mean that air traffic will be led around this area and it will mean delays for civil aviation," says Sara Eriksson, Press Manager at Transportstyrelsen.
Aftonbladet indicates that "Russia has not practiced this far west on the Baltic Sea in the past."
Comment: Russia has every right to, unlike the West which violates every treaty and agreement on a whim.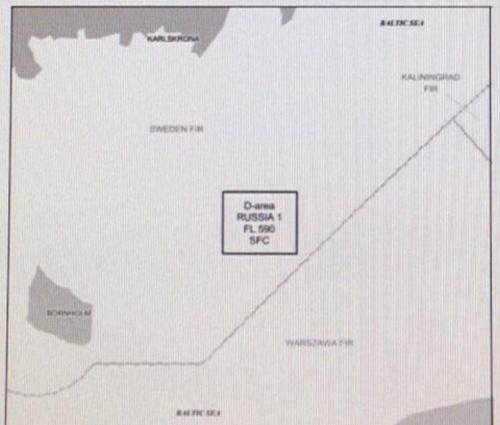 "I have never before seen another nation carry out bouts in the Swedish FIR except during a coexercise with Sweden. Clearly outside the normal," tweets Defense Commander Wiseman, Lieutenant Colonel Carl Bergqvist, on Twitter (Translated from Swedish by Microsoft via Bing).
"This is very rare," a source within the Swedish Armed Forces told Expressen.
A curator for various social media channels monitoring Russian military exercises tweeted: "Bloody hell. Russian navy just reserved missile firings area for 4-6 April up to 18000m in intl waters real close to Sweden. How provocative you can go?"
A political editor for BILD raised an interesting point, "Two days after Germany issued the final permit to realize NordStream2, the Russian Army flexes its muscles exactly above the planned course of the pipeline. Missile tests to take place from April 4 to April 6. A clear sign to Denmark and #Sweden.#PutinAtWar."
Comment: Why would Russia risk the deal just to be provocative – it has no real need to:
Sweden's public service radio broadcaster said, "Russian missiles will be tested in international waters unusually close to Sweden next week. Air traffic near Öland and Bornholm will have to be redirected.
"I've never seen anything like it" said flight traffic chief Jörgen Andersson to @MatsEriksson7."
Relations between Washington and Moscow have plunged to lows not seen since the gloomy days of the Cold War – following the nerve gas attack in the United Kingdom. In response to the West's anti-Russian campaign along with a barrage of Russian diplomat expulsions, President Vladimir Putin has ordered a new wave of war drills across the Russian Federation.
Western elites/media who have conditioned the American people with 24/7 anti-Russian propaganda could eventually get their wish of the Cold War 2.0 turning hot, as Moscow will be forced to deploy an even greater deterrence pushing the region toward a point of no return.
Comment: The article doesn't state how far in advance these drills were organised because it may just be that they were planned in advance of the West's recent black propaganda campaign. Even so, the drills themselves are also very close to the Russian enclave of Kaliningrad Oblast so it does actually make sense that Russia would want to be sure it's capabilities in the region.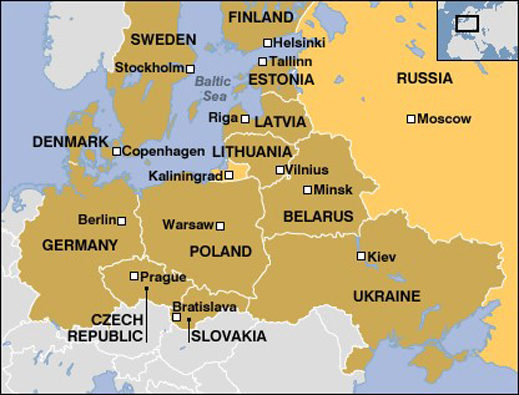 The hype surrounding this even seems to be more Western paranoid projection – even if by performing the drill, Russia is knowingly staking its place in the area:
Also check out SOTT's media: